High quality Giclee prints ready to mat and frame as you wish.  Average sizes are 20″ Height by 24″ Width.
All large format prints are $50.00.
"I was given the name Little Turtle by a Paiute Elder. This shield represents turtle as my protector and name sake". Turtles represent a sacred animal sprit to many tribes. Turtle shells are commonly made into rattles for ceremonial purposes.
Artist: Steve
Tribe: Creek Decendent
Native Americans refer to the earth as Mother Earth. The earth is a feminine symbol, and Native people consider themselves to be caretakers of the Earth. We must care for her and respect her… love her.
Artist: Dirk
Tribe: Blackfoot
Raven is revered as a strong mystical, magical animal spirit among many tribes, especially tribes within the Pacific Northwest, Alaska and Canada. Raven is known to be a guardian of ceremonial magic and is one of the most powerful totems or symbols of Native American culture.
Artist: Guzman
Tribe: Yaqui / Cherokee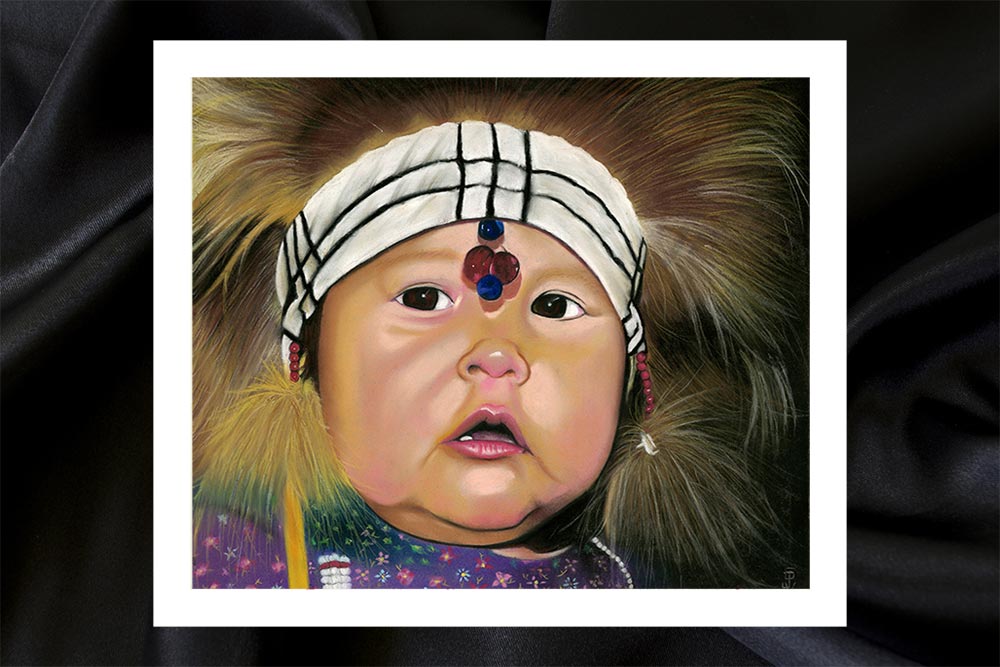 Children are considered a sacred gift from the Creator. Young ones are always included in ceremonial practices. It is not unusual to see small Native children sleeping soundly during Pow Wows and Ceremonies, as the drumming and singing continue throughout the night.
Artist: Victor
Tribe: Unknown
One of the old Ojibwa traditions was to hang a dream catcher in their homes. They believe that the night air is filled with dreams both good and bad. The dream catcher, when hung, moves freely in the air and catches the dreams as they float by. The good dreams know the way and slip through the center hole and slide down off the soft feather so gently the sleeper below sometimes hardly knows he is dreaming.
Artist: Bobby
Tribe: Turtle Mountain Chippewa