"Welcome to Friends of Red Lodge Columbia River Series. These cards represent a way of life for the Plateau Tribes who traditionally live, hunt and fish along the Columbia River- the life blood of the Pacific Northwest. The back of each card includes information about the art and the significance of the image from a Native American view".
Title: #16 | "A Taste of Freedom"
Salmon is one of the four sacred foods used by the Indigenous people of the Columbia River Basin during their Longhouse worship ceremonies. Salmon is considered a sacred animal spirit. The Longhouse and these ceremonies honoring…
Title: #227 | "Combined Earth Layers"
Kaila is a young professional artist who works in a variety of mixed medium including oil and acrylic paint, pastel charcoal, intaglio and ink. Her contemporary art depicts light and shadow at extremes, through intense color and high contrast….
Title: #253 | "The Falcon and the Mouse"
Falcons belong to the raptor family. They hover in slow motion over their hunting grounds and are very patient sitting for hours watching out for prey. Once the prey has been spotted…
Title: #278 | "Going Home"
Salmon represent the 'Ancient Ones' to Native people of the Pacific Northwest. From the beginning of time, Native people have been honoring the salmon and thanking the Ancient Ones for giving the People life…
Title: #280 | "Wishram Bride"
This Wishram bride is wearing her wealth which appears to be considerable. She is wearing many hundred dentalia shells, shell disc beads, and lazy stitch beads. Her wedding cap…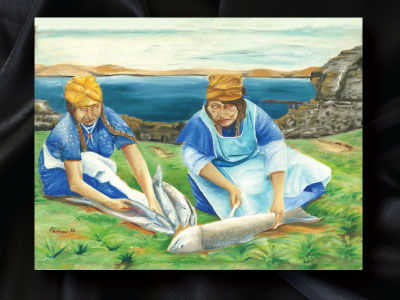 Title: #290 | "Columbia River Ladies"
Native tribal legends, stories and ceremonies pay tribute to the salmon as one of the most important natural resources in existence. The salmon is one of the 'First Foods' of the Plateau Tribes…